Door-To-Door Tactics – Grass Roots Marketing At Its Best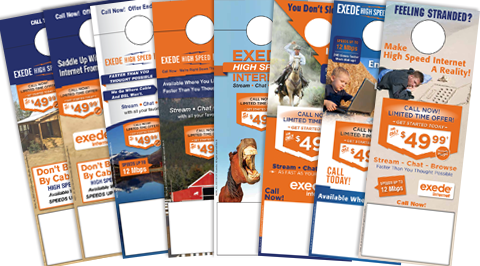 Door Hangers and Jumbo Adhesive Notes are more than just advertising. These tactics become your personal calling cards. Exede door-to-door tactics have dynamic imagery and a call to action that reflects your company's personality and message. You demonstrate your knowledge of the consumer while making them aware of your presence in the neighborhood as well.
The more often you canvass a neighborhood, the more they will recognize and remember your name. Having more than one door hanging campaign and combining this with other marketing tactics like yard signs and direct mail will assure the prospect thinks of you first when they decide they want your product and service.
Click here to find 6 Ways To Effectively Market To The Right Neighborhood.