Use multiple tactics and use them often, area managers advise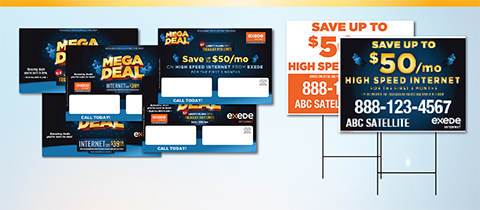 (Culled from the Exede Examiner – Issue 2)
A Monday best-practices breakfast meeting that kicked off Exede's February Jamaica dealer conference drew a standing-room only crowd.
Dealers attired in flip-flops and Hawaiian shirts gathered tips on continuing their business success while sampling goat sausage, island-grown melon and Jamaican coffee at Montego Bay's Secrets Wild Orchid resort.
Try multiple channels and don't give up if a method doesn't work immediately, sales managers who spoke at the meeting agreed.
"It really is multiple tactics that make a difference in our business," said Jeff Cochran, ViaSat's Nation Sales Manager. "When you're able to establish yourself as the local internet business in your area — no matter who else advertises — they're going to call you. They look to you to be the expert."
Establishing that reputation starts with getting potential customers familiar with your name. And for that, northwest area sales manager Larry Booth recommends yard signs and direct mailers.
Given a driver's limited time to observe them, yard signs work best when they're simple, Both said, and don't require much more information than the company name, the words "high-speed internet," a phone number and email address.
"Some dealers feel yard signs are kind of below them," Both said. "But these things work. My goal is to get as many dealers using them as possible."
Several dealers in the audience said they're already sold on this most basic of marketing techniques.
Black Sheep Satellite Systems owner Steve Cimmarusti suggested not only asking permission to place a sign, but also paying property owners. "If you pay them, they'll protect the sign," he said.
Oklahoma-based Charles Gohl, who owns The Satellite Guy, uses a different type of yard sign. He paints satellite dishes bright orange and asks permission to place them on private property.
"They're catchy; they're big; they stay forever and they don't have to be functional," he said. "I bet you I get at least one or two sales every single month off my yard sign; that's significant."
Both also advocates the use of EDDM (every-door direct mailers), and uses the post office website to figure out routes. Gohl said that allows dealers to zero-in on the right customers.
"You can target rural routes and not bomb the city," he said. "You can isolate the rural routes you want, do different Zip codes, bundle it up the way you want it. You will be surprised at the results, I can guarantee that."
Customized postcards and yard signs can be ordered from our Exede Marketing Portal. Use EDDM two to three times, minimum, and for the lowest cost per-sale, combine it with the use of yard signs.